context
serena lee
affinities
practice
I had thought about doing this for a few years after a passing comment from a curator about her mother made me realize that I'd never really talked with anyone else about being the daughter of a single mom, or about being a single mom.

So far, I have visited fourteen women: five in London and nine in Toronto. I started in May and it is now September. Each visit is different for many reasons. Some women I meet for the first time when I arrive at their door, some are acquaintances or friends of friends, and a few I have known for over ten years. Some homes I reach by bicycle, some on foot, some by car. Their homes are different sizes, types, styles, values. Sometimes the kids are there, or they've just left, or a cat, a dog, a partner, or a friend, sitting on the porch, but often they are alone. There are plastic tumblers, wine glasses, leftovers, cat food, crockpots, water bottles, and containers decorated with name stickers for summer camp. Most of these women have dishwashers—we didn't—but I wash whatever dishes are there (or re-pot a plant, or put up a shelf) and listen to whatever they want to tell me. Each visit lasts between one and two hours depending on how much there is to wash and where the conversation goes. Sometimes we drink tea or root beer and keep talking.

A friend asks: what is the one thing that connects these visits, these women, their experiences? If I had to pick, it would be something about choice, but as a question or a ratio or a flickering, foggy compass, for now.




Published in 'What is Left? What is Right?'
edited by Christina Battle
Forest City Gallery
London, Ontario
2017


Conversation and performance project (ongoing)

Grasping at the Roots
exhibition and collaborative project curated by Christina Battle
Mitchell Art Gallery, MacEwan University
Edmonton, Alberta
2020

Economies of Care
online publication curated by Noa Bronstein and Letticia Cosbert
Koffler Digital
Toronto, Ontario
2019

What is Left? What is Right?
exhibition and publication curated by Christina Battle
with Jenna Faye Powell
Forest City Gallery
London, Ontario
2017

Doing the dishes
For a public audience, I tell fragments of stories from the conversations over dishes, drawing a messy family tree with ink on cellophane, screened with an overhead projector.

At Forest City Gallery (London, Ontario) in 2017 this was followed by a public conversation with Kirsty Robertson, writer and contemporary art historian, professor at the University of Western Ontario and daughter of a single mom, based in London, Ontario.

At Mitchell Art Gallery at MacEwan University (Edmonton, Alberta) in 2020 this was followed by a group reading of Mierle Laderman Ukeles' Manifesto for Maintenance Art and a session of self-administered and or administered in pairs hand massages with coconut oil alongside discussion.

survival
expression
care
choices
'by choice'
risk
mess
avoidance
compassion
patience
honesty
vulnerability
fragility
mortality
isolation
behavioural patterns
remembrance
resentment
forgiveness
our narratives
projecting
compartmentalising
obliviousness
immaturity
anxiety
appreciation
praise
recognition
discipline
disappointment
admitting you need help
nothing fitting
no one bothering to ask
permission
de-centre-ing yourself
loss
healing
control
safety
solitude
distance
buying stuff
spending time
having an example
setting an example
dedication
unconditional love
trust
manipulation
dependence
dependability
(not) having friends close
(not) having family close
validation
having the right words
reassurance
being capable
inheritance
trauma
accessing resources
every year
every week
every other weekend
names
mother tongue
what is 'normal'
not sure what to call her
chance
change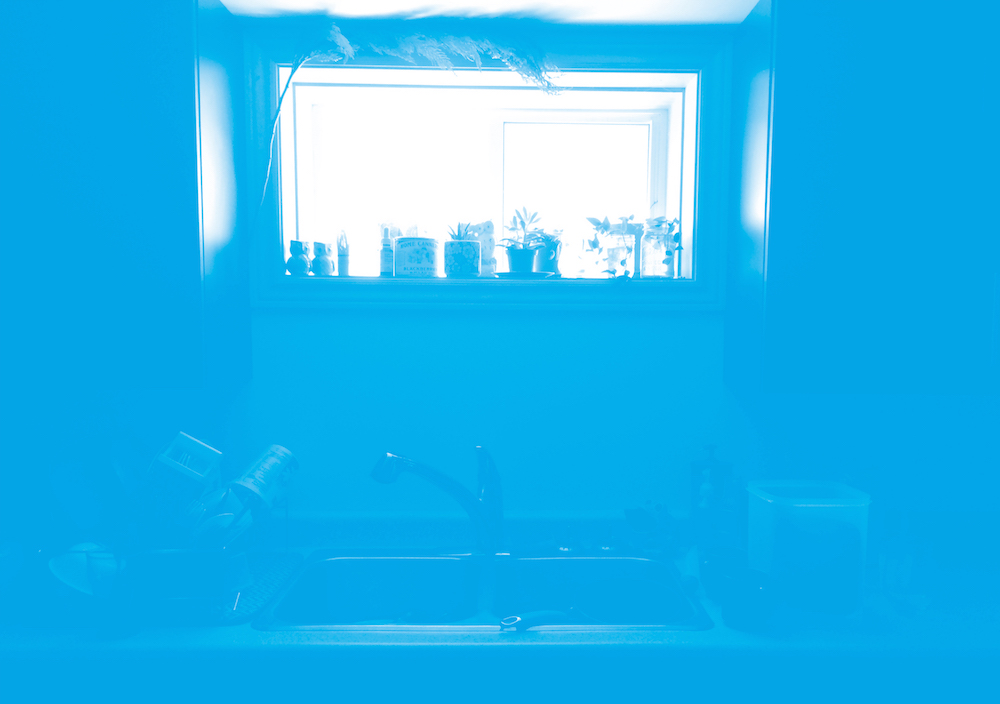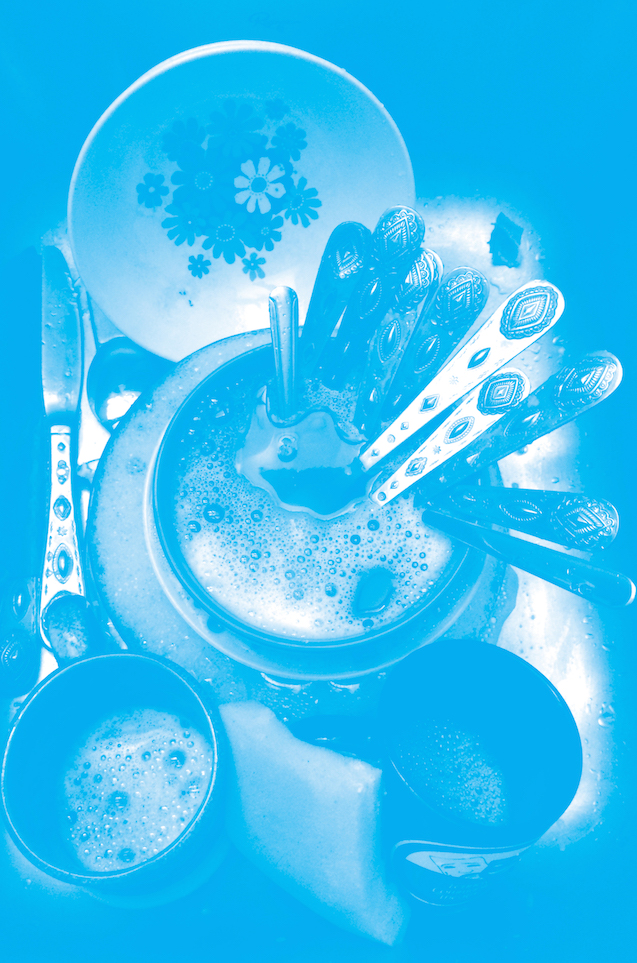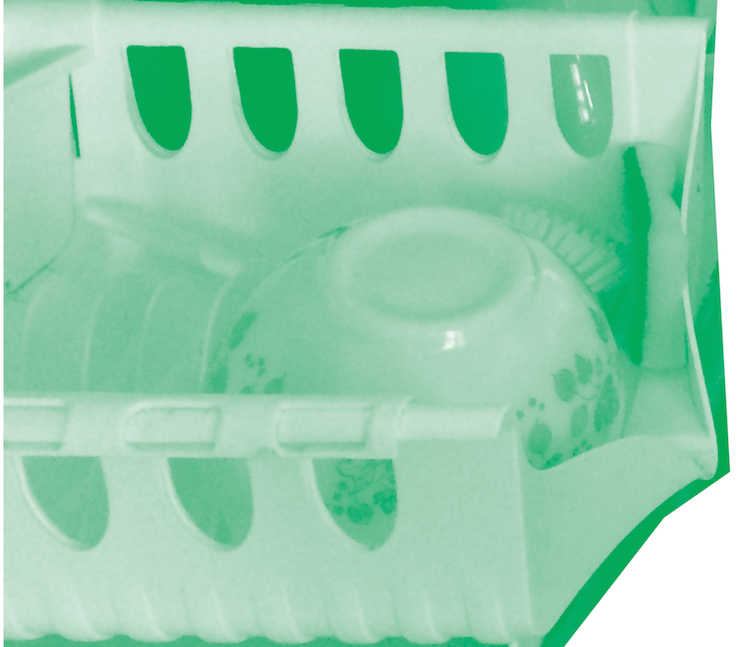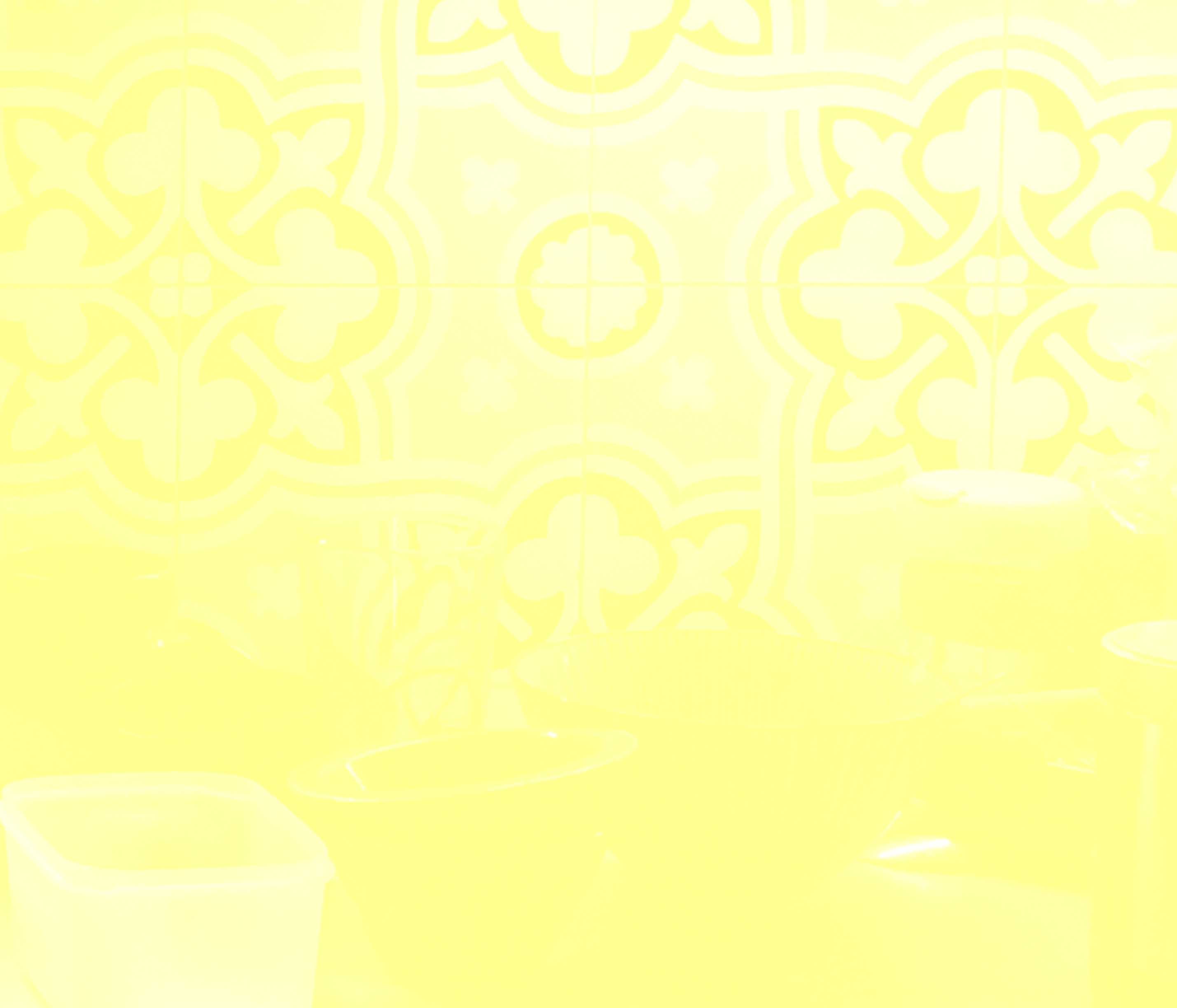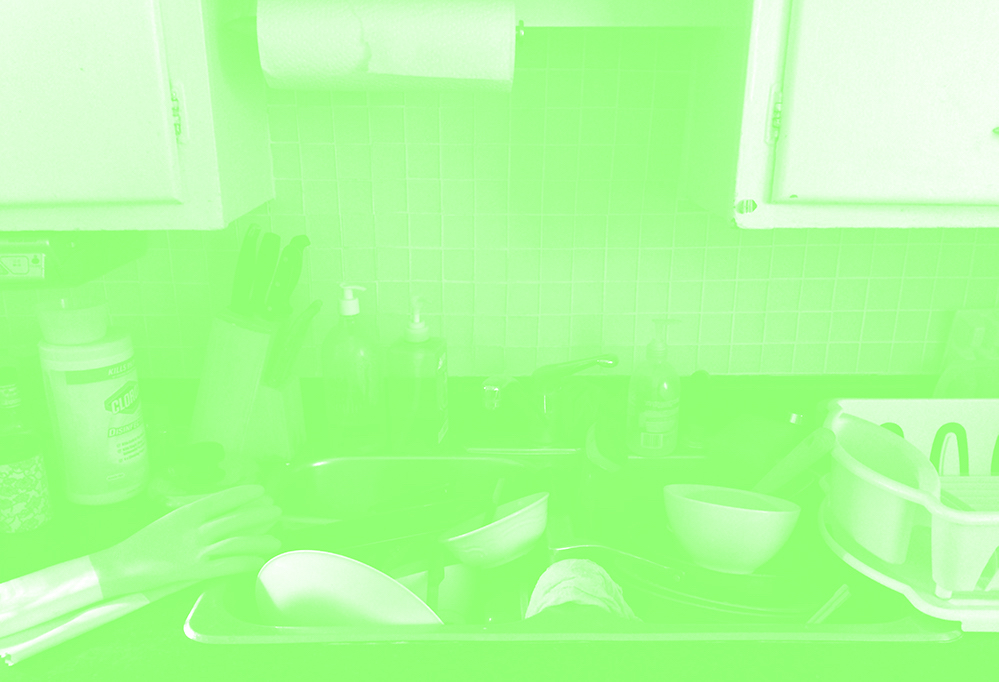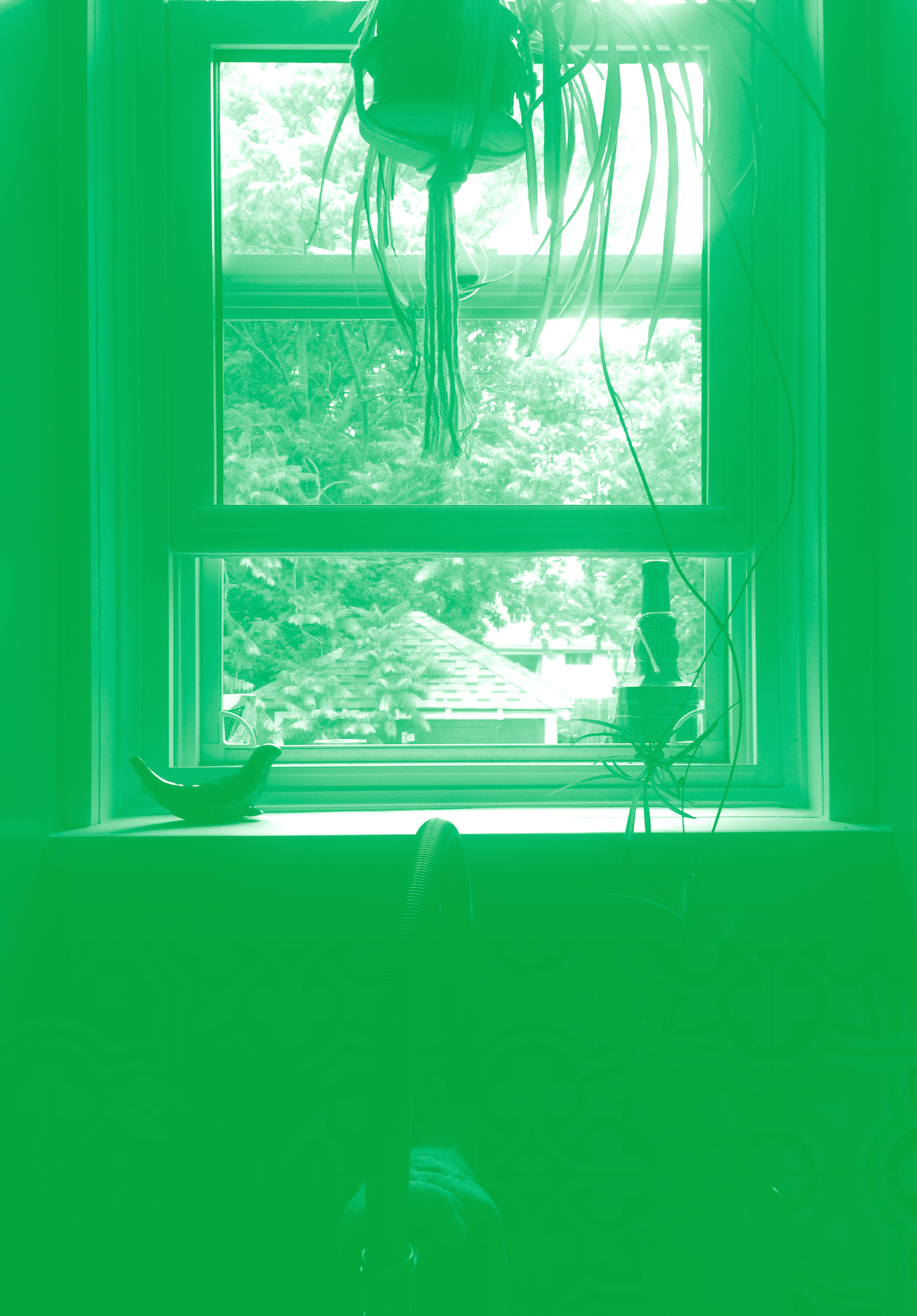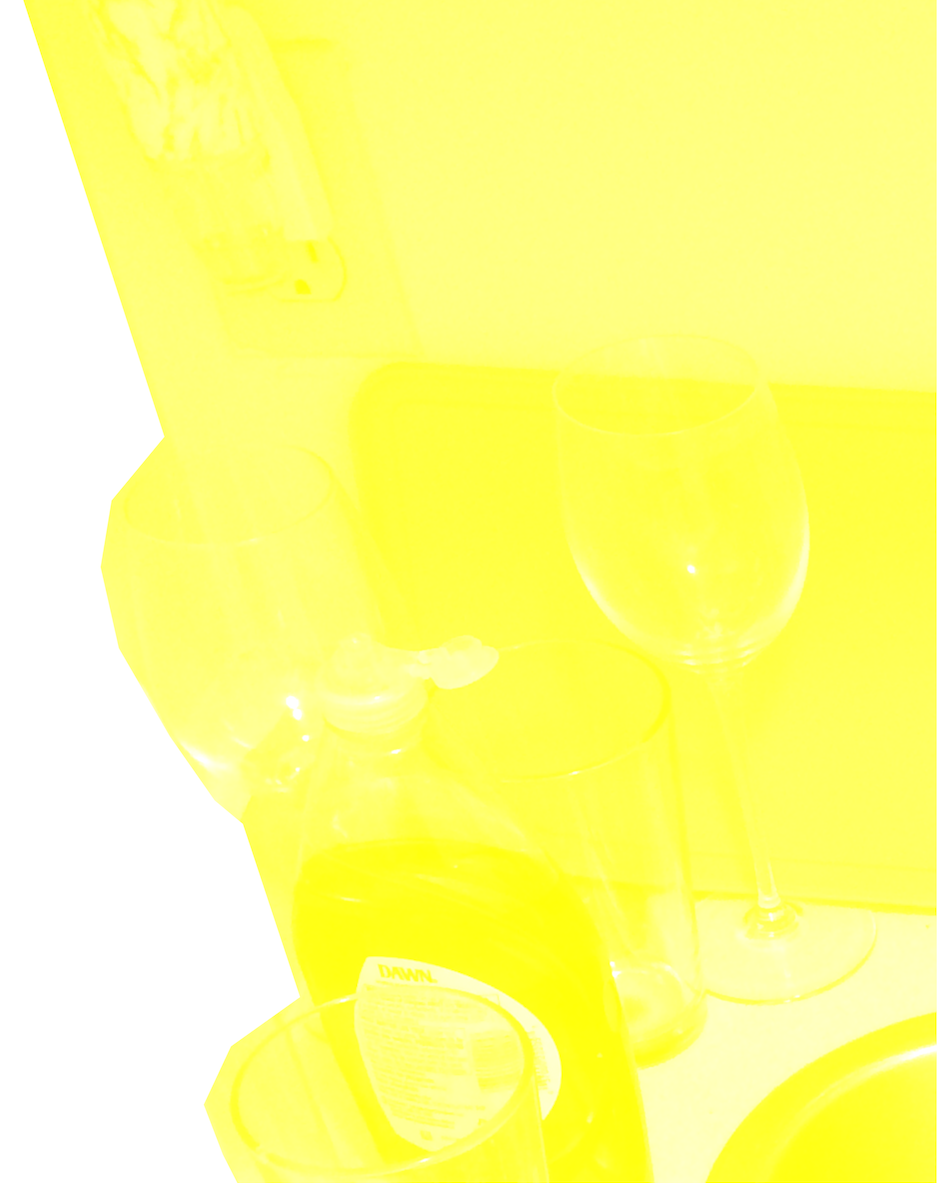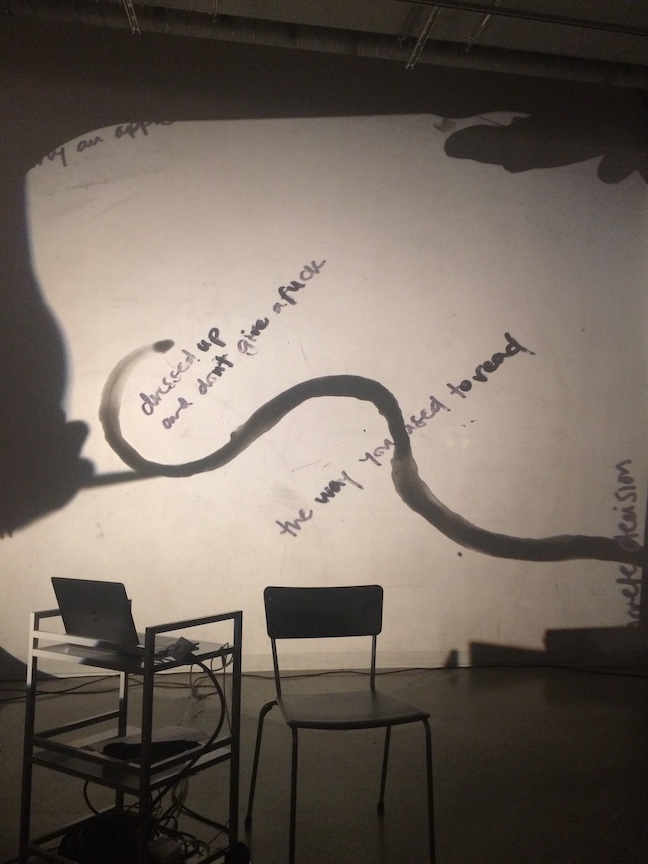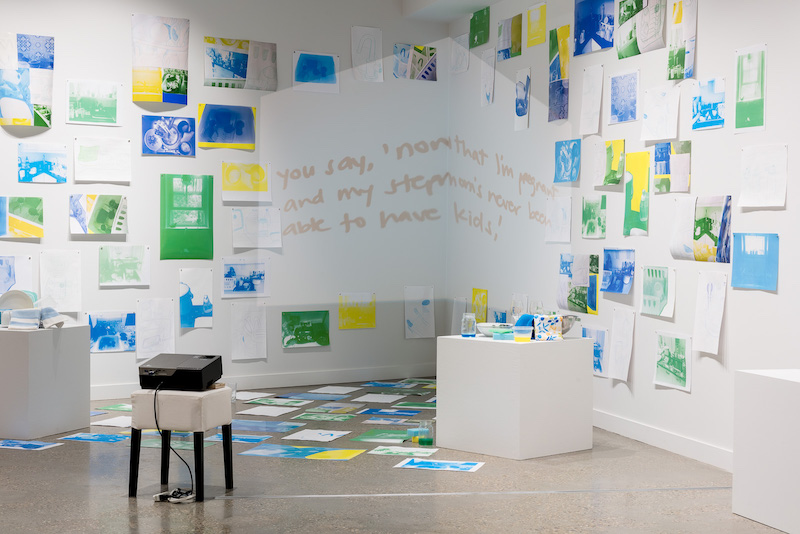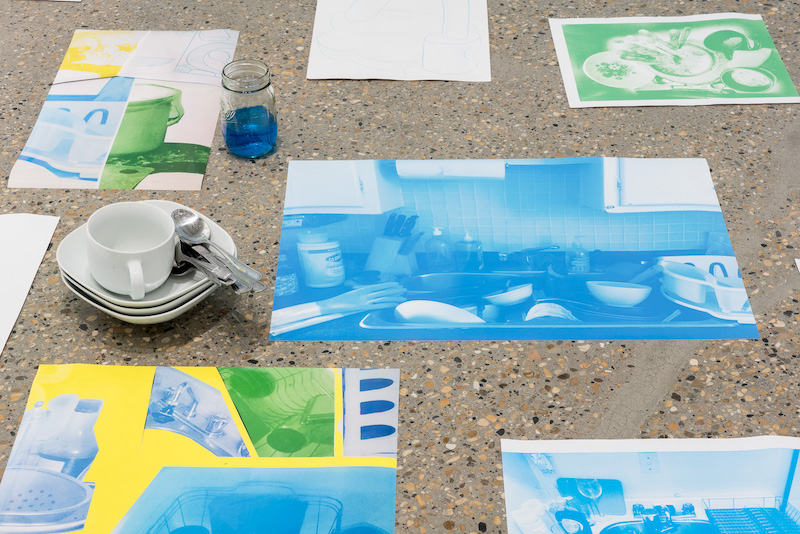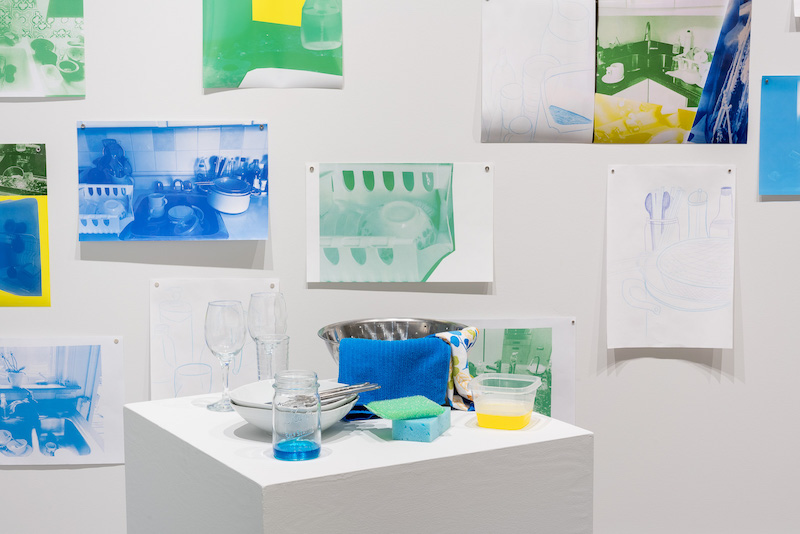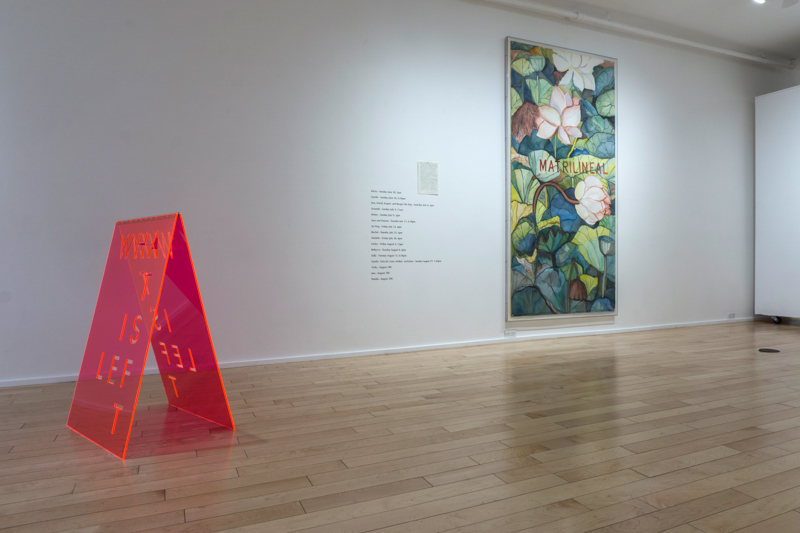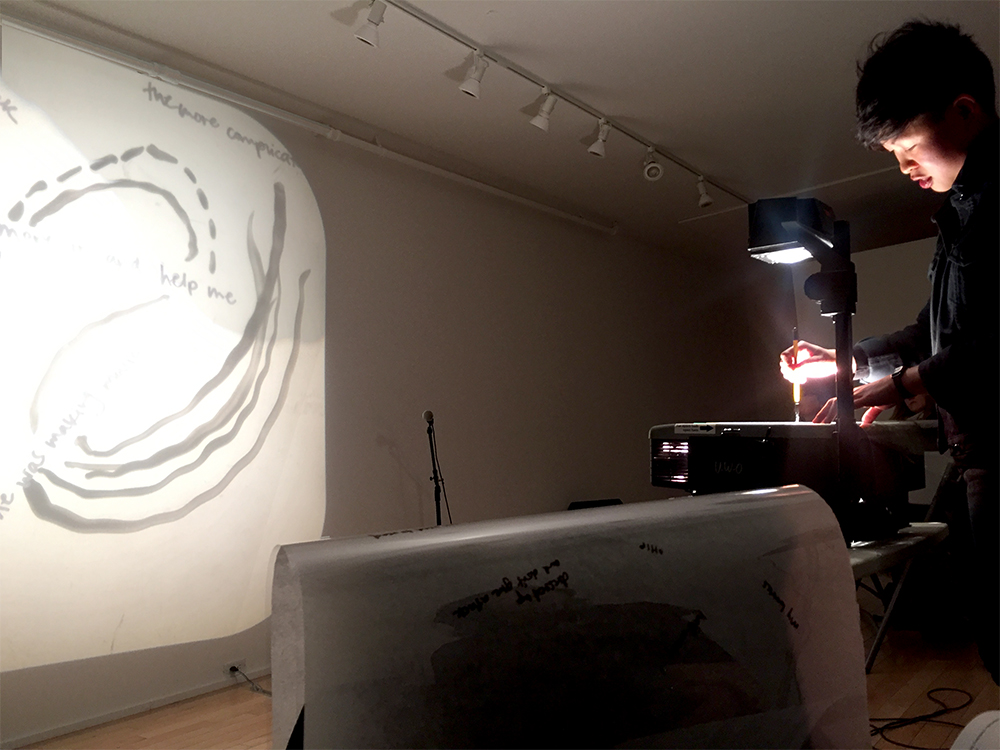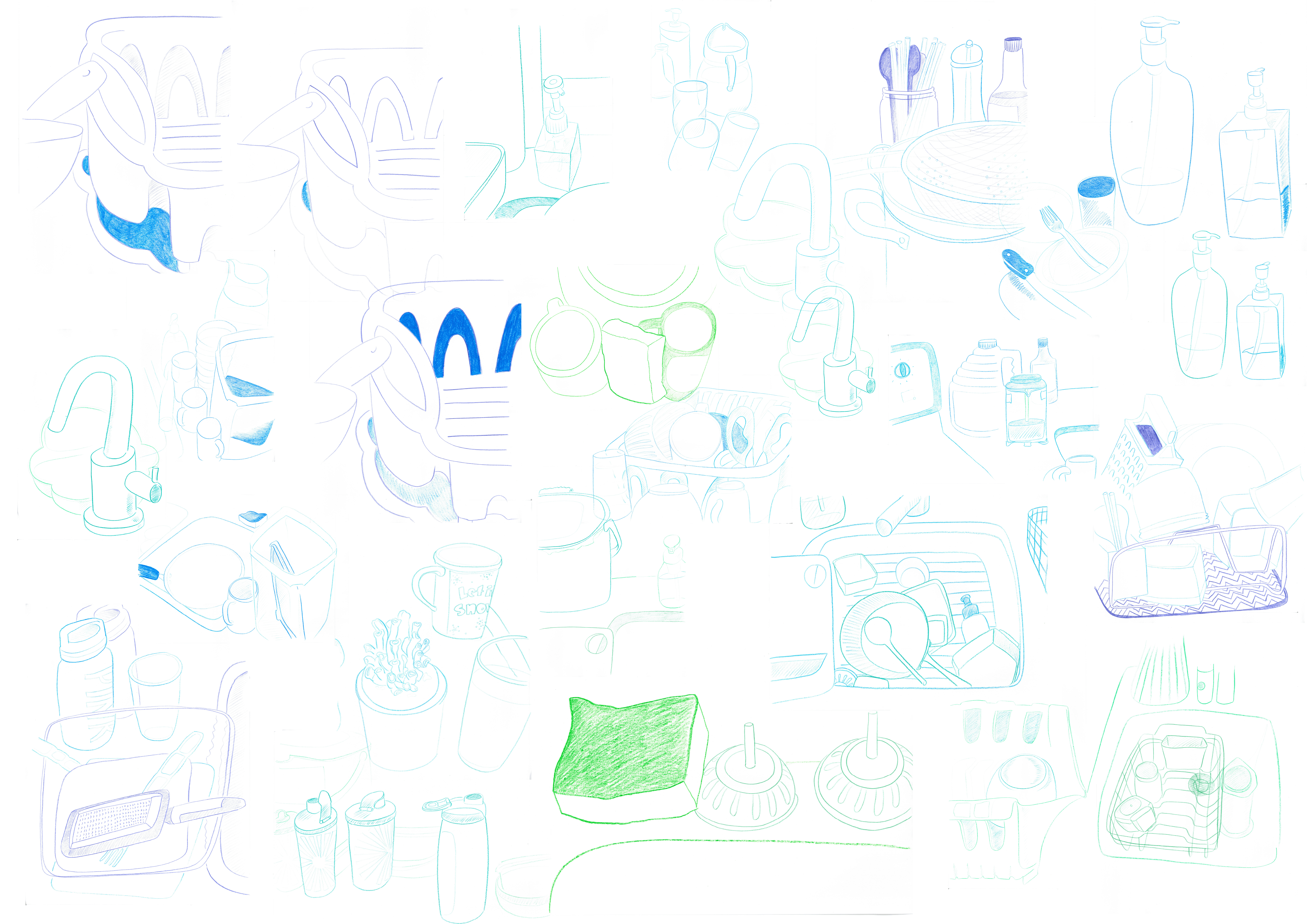 Grasping at the Roots
exhibition and collaborative project curated by Christina Battle
Mitchell Art Gallery, MacEwan University
Edmonton, Alberta
2020

Video projection, digital prints, pencil crayon drawings, dishes, utentsils sponges, soap

Installation documentation
Photo credit: Blaine Campbell
A playlist of songs selected by the women who participated in dishwashing visits, in Toronto, London, Edmonton.
Listen on Youtube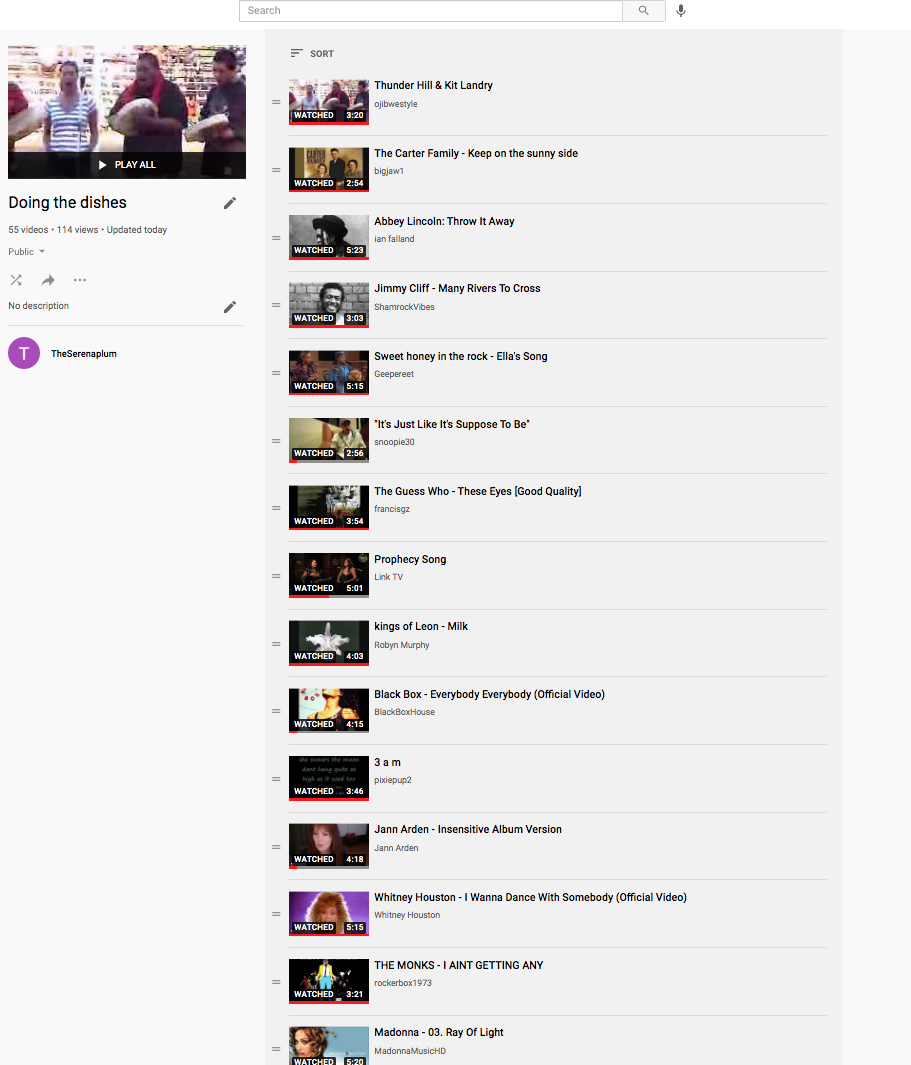 "I'd like to ask if you would be open to giving me your top song(s) for washing dishes or doing maintenance work, as I'd like to compile a playlist to listen to while exchanging hand massages.
You might send me a few song titles or, if you're inclined, even a simple recording of the song while you are doing housework ;) it doesn't necessarily have to be your personal favourite, it might also be a song that you associate with housework, from your childhood for example."
What is Left? What is Right?
exhibition and publication curated by Christina Battle
with Jenna Faye Powell
Forest City Gallery
London, Ontario
2017

Handwritten note, wall vinyl

Installation documentation, pictured beside works by Tsēma Igharas (left) and Jamelie Hassan (right)
Economies of Care
online publication curated by Noa Bronstein and Letticia Cosbert
Koffler Digital
Toronto, Ontario
2019

Screen captures
Visit project on the Koffler Digital website

From performance talk And Other Imaginary Lines given at the Museum of Contemporary Art in Toronto, 2019